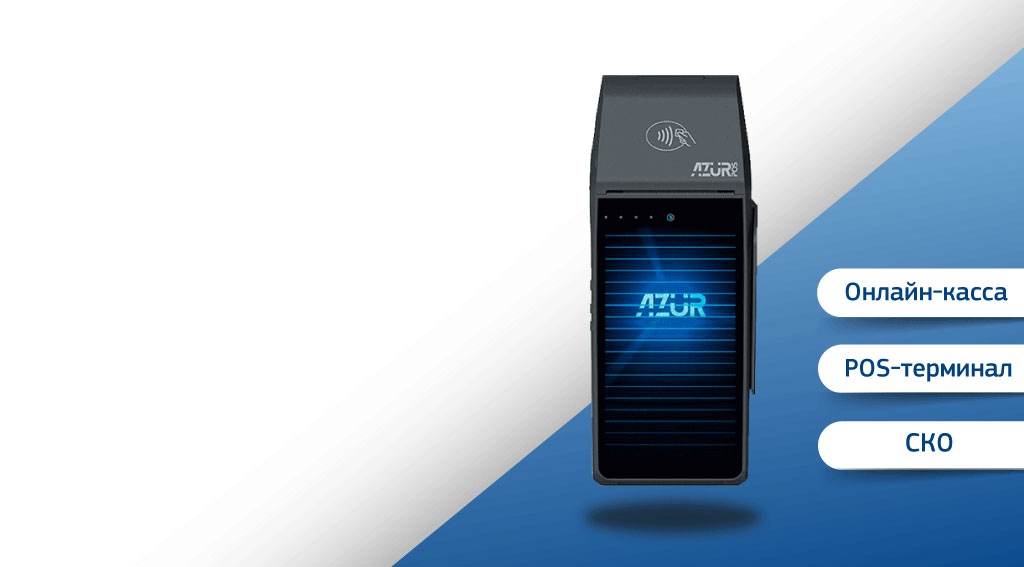 We are pleased to inform you that ByTechCompany
officially announced the start of sales
New software smart-cash AZUR POS.
In our opinion, this iswhat will greatly simplify the work of medium-sized and small companies: an all in 1 device combining a cash register, a payment terminal, a barcode scanner. The program smart-cash is suitable for any situation of sale: retail store, point of issuance of orders, delivery or trade on the street.
AZUR POS is suitable for any retail point with a small area: it knows everything necessary, and the place hardly takes. At the point of sale it is not necessary to put bulky iron - all-in-one, cash register, check printer. You don 't even need a barcode scanner: one device replaces it.
On the surface AZUR POS is similar to a smartphone, works on Android 5.1 and on the interface really does not different from the typical modern gadget. It simplifies many areas of the business that have to use several separate devices, as it is a fully functional cash machine that provides fiscal operations according to the legislation, as well as a banking terminal and scanner that can integrate with your information system.
This innovative gadget will help entrepreneurs and founders of small businesses to make their trade and mobile services, improve the quality of service and reduce their costs of receiving payments.
The main advantages of this online cash are:
The possibility of connection of acquiring, merchant acquirers is JSC Priorbank and JSC BELVEB
Take all kinds of cards: PassPay/PayWave, smart cards, magnetic cards, including devices with NFC technology.
Beautiful appearance, compact and stylish device.
A simple interface that does not require training.
AZUR POS SPECIFICATIONS
1. Processor: ARM Cortex A7, 1.1 GHz 4 Core Processor OS - Android 5.1;
2. Memory: ROM 8Gb RAM 1Gb.
3. Display: 5.5 ″ 1280*720 pixel, LCD.
4. Magnetic card reader: Track 1/2/3, Bi-directional, ISO7810, ISO7811, ISO7813.
5. Smart card reader: Supports 1.8V, 3.3V, 5V card Supports Memory card, CPU card. EMV L1 & L2, PBOC3.0, ISO7816 standard.
6. Contactless card reader: 13.56MHz, 14443 Type A/B, QPBOC3.0 standard and EMV contactless standard.
7. Types of wireless communication: GSM, 3G, 4G, BT 4.0, Wi-Fi 802.11 b/g/n module.
8. Printer: print speed, maximum 16 lines/sec, tape width: 57 ± 0.5 mm.
9. Terminal power: AC: 100-240V, 50/60Hz, 1A.
10. Battery: Li-ion 5000 mAh.
11. Размеры: Dimensions: 217 mm x 90 mm x 56 mm (length x width x height)
12. Weight: 500 grams.
13. Image scanner: 5 Megapixel.
14. Additional components: functional cover, bag for safe carrying of the device, bracket for operation in stationary conditions, magnetic charging, hybrid protective glass of increased strength on the screen.
15. Warranty period: 12 months.
You can purchase AZUR POS by clicking on the link or by calling our sales department number +375 29 219 84 25